Bitcoin Headed For the $20,000 Mark, Bubble or No Bubble!
Australia's main exchange says will start using blockchain

Cboe has said it will start trading bitcoin futures Dec. 10
Bitcoin climbed as much as 7.9 percent on Thursday as it surged above $14,000, extending this month's advance to more than 40 percent. The price of the cryptocurrency touched $14,399.99, a new record, according to Bloomberg pricing. There is speculation that the surge might breach the $20,000 mark by the end of the month, despite heightened concerns that the cryptocurrency has entered the mania stage.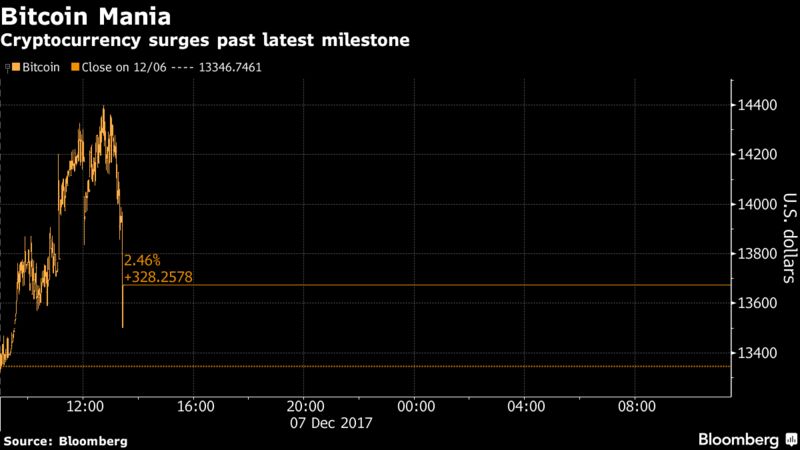 ASX Ltd., the main exchange operator for equities and derivatives in Australia, on Thursday said it will start using blockchain to process equity transactions. Blockchain is the ledger software that makes bitcoin and other cryptocurrencies possible, and Digital Asset Holdings LLC, the startup run by former JPMorgan Chase & Co. banker Blythe Masters, will supply the technology.
The latest price move will add to a chorus coming from naysayers who assert the speculative frenzy is an asset bubble waiting to pop. The largest cryptocurrency by market value has soared from less than $1,000 at the start of the year, up more than 1,300 percent.
 Cboe Global Markets Inc. has said it will start trading bitcoin futures on Dec. 10, while CME Group Inc.'s contracts are set to debut on Dec. 18. Nasdaq Inc. is planning to offer futures in 2018, according to a person familiar with the matter. Cantor Fitzgerald LP's Cantor Exchange is creating a bitcoin derivative, and startup LedgerX already offers options.
Bitcoin was trading up 6 percent at $14,111.17 as of 12:15 p.m. Tokyo time.
Original reporting by
By