Change in Saudi Arabia: It's happening and at an amazing pace
Abdulrahman al-Rashed
Al-Arabia
Thursday, 9 November 2017
More than two and a half years ago, I was among the listeners in the ministerial meetings' room. It was the first time I heard the ideas of Crown Prince Mohammed bin Salman who clearly spoke about a new project.
It is not possible to reform the government and achieve the very ambitious vision with the spread of bribes. Corruption causes many problems, whether political, social and economic

Abdulrahman al-Rashed
Dismantled and reformed
Ambitious vision
We now know him. Prince Mohammed bin Salman opposes the policy of postponing solutions, which has lasted for decades, whether when confronting a harmful country like Qatar or a hired group like the Houthis or allowing extremists to hinder society's development or letting the state be robbed by men accepting bribes.
I'll conclude what I began my piece with. Few weeks ago, I saluted his highness for the amazing decisions made. He asked me: "What do you think? Did the car work?" I said: "At an amazing speed." He replied: "We have not begun yet."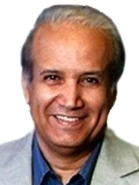 Abdulrahman al-Rashed is the former General Manager of Al Arabiya News Channel. A veteran and internationally acclaimed journalist, he is a former editor-in-chief of the London-based leading Arab daily Asharq al-Awsat, where he still regularly writes a political column. He has also served as the editor of Asharq al-Awsat's sister publication, al-Majalla. Throughout his career, Rashed has interviewed several world leaders, with his articles garnering worldwide recognition, and he has successfully led Al Arabiya to the highly regarded, thriving and influential position it is in today. He tweets @aalrashed.
Last Update: Sunday, 12 November 2017 KSA 10:36 – GMT 07:36